Meet the inspiration and visionary behind Extrait D'Atelier
We spoke to the brand owner and visionary of Extrait D'Atelier, Chiara Ronzani, and we feel honoured for letting us enter her artistic world.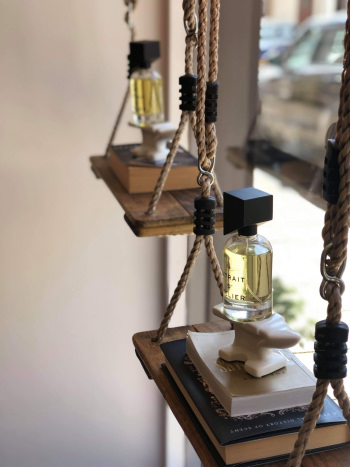 Thank you Chiara fo taking the time to talk to Maria. We think the name of the Perfume House, Extrait D'Atelier, and its concept is very original. Please tell us what inspired you to create the brand?
Dear Maria, first of all thanks so much for your passion and enthusiasm about EXTRAIT D'ATELIER. Choosing this brand, somehow you choose to support a mission... and let me tell you more about its story.
I am Italian, born and grow in Veneto, Italy - a region and overall a country rich of craftsmanship and savoir-faire. I also lived and worked in other European Countries, mostly in France during summer holidays and for business in Paris.
Countries are full of history of making luxury garments or design, or jewellery. I have always been surrounded and fascinated by Art & Craft. I am constantly inspired by people who shape, sculpture and gift timeless beauty.
And more, nowadays we are overloaded of mass production, I believe than taking the time to create not only an object, but a piece full of soul to share, is the way to path a new way of thinking the future. A way to embrace innovation elevated by humans' creativity and expression through their vision, heart and hands.
Back in 2014, I've met a perfumer . She invited me to visit her atelier and discover the beauty of creating perfumes and more, the magic each one ingredient evokes.
I've started to study to understand more around this world and actually I found out how impactful is the scent for our memories.
I was so fascinated how the most ephemeral product is related to the most impactful sense.
So, I decided I would like to create an olfactory journey that is witnessing the essence of savoir-faire. A pure scented translation of the Master in its atelier, while he is shaping and creating. A mission to connect people to the world of Art & Craft, to approach them to the beauty and luxury, and to be part of it.
So EXTRAIT D'ATELIER was born. The extract of the Laboratory, the filtering of the alchemy generated. I've chosen the French wording to elevate the Luxury of this outstanding world, together with the uniqueness of the made in Italy product, all related also to the fragrance world: Extracts in the Lab.
Please tell us, who is the person(s) behind the brand?
Behind the brand there is a dreamer, philosopher and an utopian woman, whose dream is to share a message and somehow influence to a better world full of beauty, sustainability and doing things with purpose.
My background is in fashion, I worked many years for big groups, which I am grateful to because I've met extraordinary people and visionary entrepreneurs. That experience had ''sculptured'' me a lot and made me the person I am today.
I believe life is a journey to test you and to try to express your inner you. And this is what I have done all my life. Trying to experiment and do things because they are part of me and the vision I have in a dreamy world.
EXTRAIT D'ATELIER is very me, simple, straight forward, minimal outside though very bright and colourful inside.
The perfumes in your collection are dedicated to centuries old crafts - please tell us - did you have to fully immerse yourself with each craft - did you personally witness the daily lives of the craftsmen and the motions behind each atelier, in order to create each perfume?
EXTRAIT D'ATELIER fragrances are born in the related ateliers first. In fact what I ask the perfumers is to translate not to create. I want the story to be as true as possible. Of course the ''story'' is a scent, but the experience when telling it, or better smelling it on the skin, guides the wearer to image and be part of this extraordinary place and mostly to feel somehow a Mastro too, to get to know closer the essence of savoir-faire.
The collection is not meant to be nostalgic, I love technology, and I think we can move to the next level with it. However this story wants to connect and recall a great past, confirm a contemporary trend, but mostly draw a vision into the future made of Art & Craft, made by people, their creativity and beauty expression first.
Where are the perfumes formulated and who have you trusted to realize your vision under each "Maître"?
The first 3 Masters: Maître Couturier, Maître Chausseur and Maître Joiallier have been translated by Claudia Scattolini; Maître Céramiste by Maurizio Cerizza & Luca Maffei and the last one, Maître Jardinier, by Bertrand Duchaufour.
All of them have been pretty challenged and asked to live and experience the ateliers, raw materials, noises inside the ateliers and people's daily gestures/work.
This is the only way this story may come to life together with my way of telling them as a whole.
All 5 perfumes are Made in Italy.
Would you say that you have a favourite perfume from the collection and why? It is probably impossible to say that you love one child more than the other, but we are curious.
(Smiling) They are all my little babies, but the one I wear always as a cloud embracing me and my clothes, is Maître Couturier. I love this scent as it is very delicate, there is a touch of ancient times in it, enveloping me into a mist of elegance and luxury.
When was your first memory with scent and the first perfume you had?
I would say Hay. When I was a child I always had horses, rabbits, and other animals, I am a mountain girl. Nice childhood memories into this natural dry scent always taking me into these thoughtlessly [carefree] times.
What is your favourite smell in the world?
This is a very difficult question. I love so many smells as I love and respect Nature. Though I think, maybe I am giving a very obvious answer, but the best smell ever experienced is the one of my daughter: it represent my infinite love expression.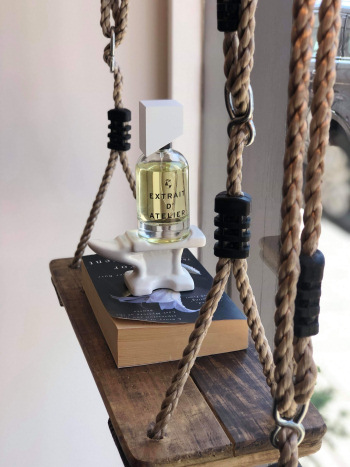 What would you like to tell someone who has never come across Extrait D'Atelier?
Did you ever experience the essence of savoir-faire? Would you like to be part of an extraordinary world and get to know more the unique know-how of a Master shaping raw materials and the alchemy generated?
Yes that's what I would say.
Are you working on a new project and what is next for Chiara Ronzani and the brand?
Yes I am working on new EXTRAIT D'ATELIER's projects, but there's no rush. I don't know yet when they will come live. EXTRAIT D'ATELIER is a very young and niche brand, there's a lot to do to make it visible and recognizable in order to fulfill its inner mission.
I am so grateful and honoured you took the time to listen to my story and mostly you, Maria, and Shy Mimosa took part of this journey with me & EXTRAIT D'ATELIER.
Behind the scenes there are many dreams linked to this important story, to its most important mission: connecting people to the world of Mastery and Savoir-Faire, to influence and shape the future in Beauty and Business with Purpose. This is what I aim for this brand.
Meanwhile I am trying to go to an European Tour to meet clients and I really hope to come and meet you in person and see your beautiful store very soon.
Concerning me, Chiara Ronzani, I am always on the move and besides EXTRAIT D'ATELIER I am on other interesting projects with my partner in life and business Paolo Polloniato - POL, a Contemporary Ceramics Artist.
Art&Nature are my inspirations, always.
Thanks Maria for this great Interview.
Chiara xxx
Explore the Extrait D'Atelier Range of Perfumes in the Shy Mimosa Online shop.