Maison Marc-Antoine Barrois
Marc-Antoine Barrois is a Paris based couturier who, after ten years of commencing Haute Couture and learning the refined craft of Haute Couture, opened his Maison de Couture for men in 2013. From his address on rue de Budapest, Marc-Antoine designs bespoke pieces of clothing from unique suits to one-off handcrafted accessories. In 2017, Monsieur Barrois launched his first fragrance, B683, to compliment his unique Haute Couture pieces.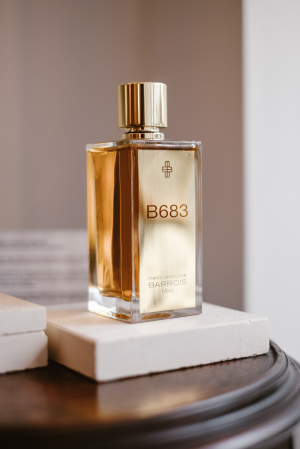 B683
B683 was inspired by Antoine de Saint-Exupery's book "The Little Prince" and was conceived as an idea of the imaginary planet. Building on the timeless elegance of his mentors, with this perfume, Marc-Antoine reveals his most beautiful souvenirs as well as his world of contemporary designs.
Ultimately, B863 is an invitation to explore and travel on his planet where bespoke pieces of his collections and jewels meet a genius symbiosis of poetry and dreams with arts and crafts.
When Marc-Antoine looked for a perfumer to collaborate with for his first fragrance, he was introduced to Quentin Bisch, a young perfumer who trained in the highly competitive Perfumery School, Givaudan, under master perfumer Jean Guichard. Those with a deep interest in perfumery might know Quentin Bisch's work for Thierry Mugler, Chloe, Van Cleef & Arples, Yves Saint Laurent and a few niche perfume houses, Ex Nihilo, Etat Libre d'Orange, Parfums de Marly.
For this collaboration, Marc-Antoine Barrois and Quentin Bisch journeyed their childhood memories that inspired the creation of the perfume.
Remembering captivating smells of the leather from an elegant briefcase or an immaculate desk blotter, the distinct smell of burning wood to warm the family home. The perfumer wanted to also capture Marc-Antoine's artistic world of fabrics, patters and jewels. The result is a perfume with notes of spices, wood and leather.
The Notes:
Black Pepper, Saffron, Chili Pepper, Nutmeg, Violet Leaf, Amber, Cistus Absolute, Musk, Patchouli, Santal Wood, Oakmoss, Ambroxan
The scent:
B683 is a scent of incredibly delicate leather notes and dry woods, uplifted with unusual chili accord, which is green and fresh. A different dimension is added by the violet leaf that smells cool and wet. The rest of the spices are subtle despite the listed notes, which are masterfully blended into fresh resin and evocative incense. The green note lingers all the way though the heart of the perfume structure and at which point the scent mellows and the leather accord is revealed until the very end. A hint of moss adds a masculine elegance against the woody and amber-y notes.
B683 is incredibly refined in the way it smells and in the way it unfolds on the skin. It makes you put together, comfortable in your own skin and focused. It is elegant and sophisticated.
As Marc-Antoine Barrois is a menswear designer, it could be suggested that this is a men's fragrance, but we wouldn't put gender on scent and have seen the sublime transformation on female skin who appreciate refine leather perfumes. After all, if you love it - wear it.
View MArc-Antoine Barrois B683
What Maria, Shy Mimosa's owner thinks:
Maria
"I love the raw and chic aspects of it. To me, this is a very sexy and refined elegance, 70s chic with a modern nuance. I was completely intoxicated by it from the moment I tried it for the first time when Marc-Antoine introduced me to it. Since then, I have been obsessed."
What our customers think:
Stef B
"I've been searching for a perfume that represents me for years and Oh My Goodness - the moment I tried B863, I knew it was so me. It was a moment when you find your lover. It was everything I was looking for in a perfume: woody, spicy, balanced and so darn sexy. Everyone is complementing it and I am scared to tell them what it is, I just send them to Shy Mimosa Perfumery..."
Mariya T
"I simply fell in love with B683 and have chosen it as my wedding perfume. It makes me feel sexy, desired and invigorated. Every time I put it on, it makes me smile, I feel happy and uplifted."
Mimi B
"So good! It is my sexy night out scent, but I missed wearing it day time and started wearing it to the office. One of my female colleagues told me I either stop wearing it or she would have to change desks, because she felt she was falling in love with me! Yes, B683 is that intoxicating."
"What Marc-Antoine says:
Marc-Antoine
"I wanted to create a timeless perfume, redolent of elegance and chic, classic yet contemporary, and I think Quentin has done a great job, translating my vision"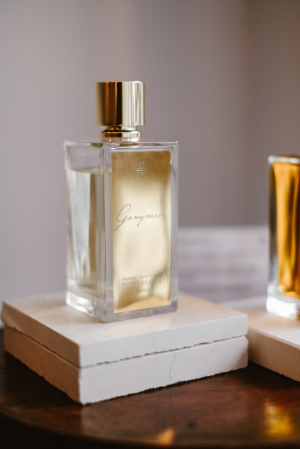 Ganymede
A second olfactory planet in the universe of Maison Marc-Antoine BARROIS was born: Ganymede.
Marc-Antoine trusted Quentin Bisch again, and has given him full carte blanche to create Ganymede. It has taken two years and the result is a fresher fragrance with a more modern and fluid elegance. It is composed of delicious notes of Italian tangerine that evolves on woody accords. Still spicy, but mineral and salty touches have been added. Its trail and hold are bewitching and as addictive as B683.
For Quentin Bisch and Marc-Antoine, it is the fantasy of a modern Dolce Vita.
In search of a name for a second planet, Marc-Antoine sought inspiration in his library of artist monographs studied during his studies.
It was by rediscovering a triptych of the artist duo Pierre & Gilles representing Ganymede, son of King Tros, the most beautiful mortal, who was kidnapped by Zeus (or Jupiter) to become the cupbearer of the gods, in Greek and Roman mythology. And so, Marc-Antoine fell in love with this name. As he deepens his research, he closed the loop by discovering the other side of the name: Ganymede which is also the largest moon in the solar system - the 7th satellite of Jupiter. Composed of rock and covered with oceans of salt water. Like a nod to the salty imprint of the immortelle flower that signs this perfume off.
The notes:
Italian mandarin, saffron, violet, osmanthus absolute, akigalawood, immortelle absolute
The Scent:
Ganymede is this incredibly beautiful harmony around a quartet of mandarin, violet, immortelle and suede. It once again makes use of the suede-leathery notes that made B683 an instant classic.
This time though, the leather notes are softer, gaining lightness and gentleness in contact with the fragrance of violet. The Italian mandarin still brings intense brightness and vivacity, yet immortelle adds sublime balance, using salty and mineral tones to act as a striking counterpoint.
A galactic olfactory harmony both delicate and balanced, full of energy, sensuality and contrast. Ganymede is quite unlike any fragrance on the planet, or elsewhere.
View MArc-Antoine Barrois Ganymede
What Shy Mimosa thinks:
Shy Mimosa
A saltier, more floral interpretation of the ultra-smooth leather note also featured in B683, lighter but still incredibly substantial and long lasting. Simply divine!
What our customers think:
Ann B
"I tried it one day at Shy Mimosa and I was intoxicated. I went back next day first things in the morning to pick a bottled.
I just needed it in my life. It fulfilled me, uplifted me, I felt complete and in this indescribable harmony. Haven't experienced anything like it."
Rob W
"It is simply terrific."
Nina N
"Love, love, love it and had to have it in my life"
Tim N
"It is simply beautiful. It is the most sensual and sexy perfume I had come across. I feel someone else when I wear it... It completely transforms me and makes me feel incredibly confident. It is totally a fragrance that owns you…"
What Marc-Antoine says:
Marc-Antoine
"With Ganymede, I wanted to create a lighter version of B683, still elegant and timeless, and Quentin has done an outstanding job."
Available to try Ganymede and B683 through our sample service.
View MArc-Antoine Barrois Perfumes